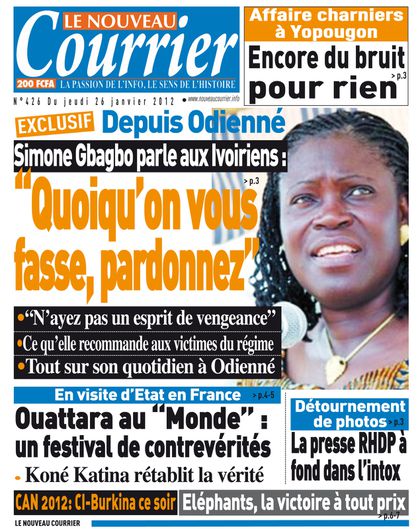 Arrested along her husband president Laurent Gbagbo, Simone Ehivet Gbagbo is detained to Odienné since last April 12th, in the residence of the ex-chancellor where she spends her days between prayers and meditation of the Bible, the reading and Ivorians funny movies. Today, the president of the parliamentary group of the Fpi launches a strong message to the Ivorians from her prison of Odienné.
She is morally a strong woman, even if since about ten months she did not see again her
children. The First Lady Simone Ehivet Gbagbo lost nothing of her serenity and her confidence. If she had seemed thinner, a few months ago on the images which it had been given to see, on the occasion of one of the visits of her council of lawyers, today the deputy of Abobo seems to have taken some kilos moreover, our source tell us. She testifies the fact that they treated her well since her arrival to Odienné. Even if a prison remains a prison, nevertheless. She miss her relatives. At these moments of rising violence committed by pro-Ouattara, she insisted on the fact that the Ivorians have to forgive and have no desire for revenge.
Simone Gbagbo asks to the Ivorians to remain in prayer. "It is true that been hard for you, but forgive. Have no spirit of revenge despite what they made you undergo. Pray for us". It is the message sent by Simone Gbagbo to the Ivorians, there is a few days and which our source brought back to us. The former chairman of the parliamentary group of Fpi especially invited
the Ivorians to do not have resentment, in spite of all these events. Remarks that occur when the FPI has undergone yet another outbreak of violence from supporters of Ouattara. According to our source, Simone Gbagbo called mainly the Ivorians to pray for President Gbagbo, for her and the son Michel Gbagbo and to all those (political prisoners, ed) who are incarcerated right now. To regain their freedom.
According to our source, the wife of president Gbagbo was able to surmount all her events and has no resentments against no one for all what they made her undergo. She worries for Michel of whom she has no news since her "deportation" to Odienné. She was not able to communicate with her daughters who are today in exile. Concerning her husband, president Gbagbo, it is through internationals channel that she hears about him, when it is not by her college of lawyers. Simone Gbagbo believes that she will be free soon, because she remains convinced they did nothing.
Concerning her entertainment, she devotes to the walking in the court of the residence, generally in the afternoons to stretch her legs a bit. She listens to biblical teachings via Cd and likes the funny movies a lot, particularly the Ivorian's ones. She avoids especially action movies.
Photo - Nouveau Courrier n°426 (26/01/2012) Texte - Frank Toti
http://www.nouveaucourrier.info/