14 mars 2010
7
14
/

03
/

mars
/

2010
11:54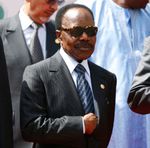 Le Mollah Omar Bongo Patience Dabany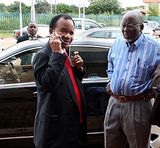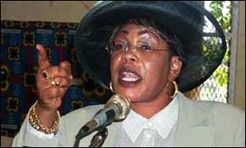 Frederick Chiluba
Vera Chiluba


Nicolas Sarkozy & Cécilia Carla Bruni-Sarkozy

Ce n'est certainement ni officiel, ni vérifié, ni réellement important, mais pour notre confrère sud-africain Times Lives (www.timeslive.co, voir l'article ci-dessous), l'affaire semble entendue : le président français est à nouveau cocu ! La preuve, ou presque, à son tour, il cocufierait ! Il avait déjà le douloureux privilège de s'être fait quitter en plein début de mandat... C'est arrivé à d'autres.Chez les Africains, deux ont retenu notre attention. Le Gabonais Omar Bongo, évidemment. Mais aussi l'ancien président zambien Frederick Chiluba.
Le Gri-Gri rechigne, on le sait, à l'attaque au physique (vraiment pas notre genre !). Mais comment ne pas remarquer le pénible point commun à la future ex moitié de Carla, au défunt époux de Patience Dabany (qui le largua en 1985) et à ce qu'il resta politiquement du président Chiluba défait aux élections à cause de l'ouragan Vera ! Deux drames conjugaux, deux façons de les gérer. Bongo : 41 ans de pouvoir. Chiluba : torché dès le scrutin suivant.
Carla sera-t-elle du bois dont on fait les Patience ou tout en Vera...

Texte - Chaka Hama Zulu


Article paru le 10 mars sur Times Lives (www.timeslive.co)

French gossip websites are salivating over a flurry of rumours that the fairy-tale

marriage of President Nicolas Sarkozy and supermodel-turned singer-songwriter Carla Bruni is in trouble because they are both cheating on each other.




Sarkozy, 55, is claimed to be romantically involved with his 40-year-old ecology minister, Chantal Jouanno, while Bruni, 43, has been romantically linked to a long-time friend Benja-min Biolay, a pop star six years younger than her. The claims, which first surfaced on Twitter, were reported in the Sunday newspaper le Journal du Dimanche, which described them as ''the gossip of the moment that could become the story of the year''. According to Sky News, it was first tweeted that Bruni had fallen in love with Biolay. Claims quickly followed that Bruni and Biolay were unofficially living together in a flat in Paris. Before long the allegation that Sarkozy was romancing Jouanno, who is also a karate champion, emerged. The minister has said she is ''scandalised'' by the rumour and has threatened legal action. On Tuesday, Sarkozy's spokes-man said he had ''absolutely no comment'' to make on the rumours swirling around the first couple. In an interview published yesterday with Sky News presenter Anna Botting, Bruni said she believed her husband would never be unfaithful to her. Asked by Botting if Sarkozy was a ''keeper'', Bruni said: ''I guess marriage should be forever but who knows. ''I wish it was forever, . but we could be dead tomorrow.'' Asked whether she trusted the president, Bruni said: ''Oh yes - very much. He would never have affairs . and have you ever seen a picture of him having an affair?'' Sarkozy and Bruni, who once famously said she was ''easily bored by monogamy'', married in February 2008. The couple, who both had affairs in previous relationships, had met a mere three months earlier at a dinner party in Paris soon after Sarkozy separated from his second wife, Cecilia Ciganer-Albeniz.

Texte -
By Staff reporter