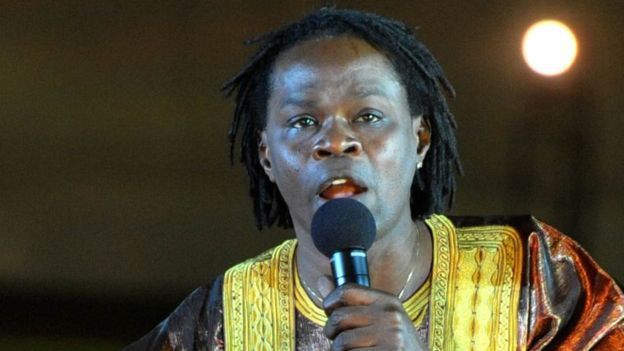 A Catholic charity has sacked a worker after it emerged he had been accused of sexually exploiting vulnerable people in Haiti while working for Oxfam.
Cafod said it was "unaware" of the claims until contacted this week by the Times, which broke the Oxfam story.
Meanwhile, Sengalese singer Baaba Maal has told BBC Newsnight he is standing down from his role as a global ambassador to Oxfam after six years.
The star said he found the sex abuse claims "disgusting and heartbreaking".
Describing the allegations as "very sad", Maal said he was "disassociating" himself from Oxfam "immediately".
Maal was one of 14 global ambassadors for Oxfam International.
Others include singer Annie Lennox, the band Coldplay, Archbishop Desmond Tutu, and the model Helena Christensen.
'Horrified'
However, Glastonbury festival founder Michael Eavis defended Oxfam, calling it a "wonderful" charity.
Speaking at the NME Awards, he said the festival had raised £6m for the charity, and planned to continue its support.
Mr Eavis added that "a few dodgy people" should not discredit its good work.
Earlier, actress Minnie Driver stood down from her ambassador role with Oxfam, saying she was "nothing short of horrified" by the allegations.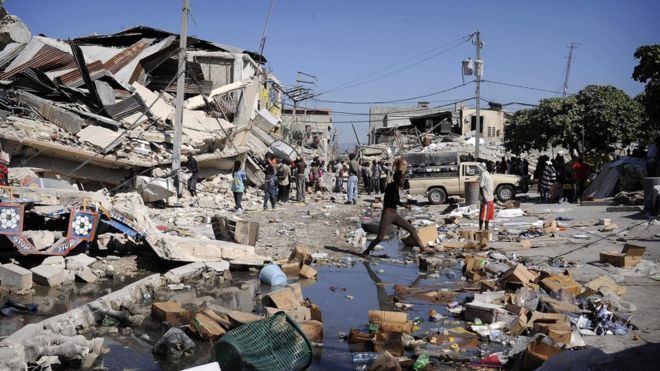 Pressure on Oxfam has been growing after allegations first arose last week about its handling of allegations of sexual misconduct by its aid workers in Haiti.
The charity, which denies covering up the behaviour of its staff following an earthquake in the country in 2010, is being investigated by the Charity Commission.
The charities regulator said it would announce the scope of its statutory inquiry into Oxfam on Thursday.
Oxfam said it would co-operate with the inquiry and recognised it was in the public interest to be "transparent and accountable" and that lessons are learned.
Reality check: How much money goes to Oxfam?
How will the Haiti scandal affect Oxfam?
It comes as Cafod, an international development charity, said it has sacked an employee implicated in claims sexually exploitation in Haiti.
The charity said the man had applied for the job in 2014.
References were provided from his previous employers and from somebody the worker said was a former line manager from Oxfam, Cafod added.
He was dismissed on Wednesday when Oxfam confirmed claims he was among its ex-workers who had been accused of sexual misconduct.
Cafod said it was "committed to a zero-tolerance approach to misconduct" and the employee's failure to disclose the circumstances of his departure from Oxfam were in breach of its code of behaviour.
The charity has also reviewed two historical cases of sexual misconduct allegations against other employees. One yielded no evidence and one saw a staff member dismissed.
In other developments:
International aid group Doctors Without Borders said it handled 24 cases of harassment or sexual abuse last year

More than 1,000 people cancelled their regular donations to Oxfam over the weekend

Organisations including Marks & Spencer and the Duke of Edinburgh's (DofE) Award say they are considering their association with the charity

International Development Secretary Penny Mordaunt spoke to the National Crime Agency (NCA) about the Oxfam case.

Oxfam said it sacked its country director in Haiti, Damien Berrendorf, last year, following allegations of "mismanagement" and "inappropriate behaviour" which were reported through its own whistleblowing line. The charity said the dismissal was not related to sexual misconduct nor the 2011 case.
Speaking to the BBC, Oxfam's regional director in Asia for the last two years, Lan Mercado, revealed she is aware of allegations of sexual abuse against staff in the Philippines, Bangladesh and Nepal from 2009-2013.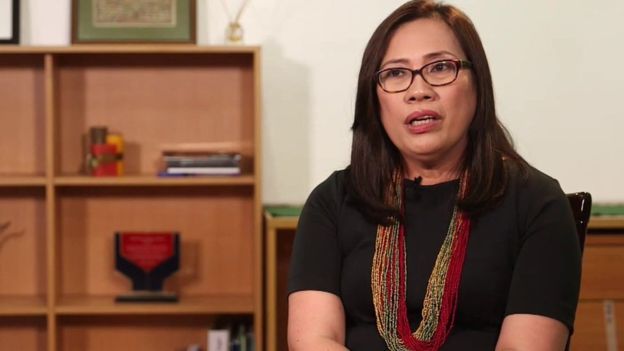 Ms Mercado said the scale of misconduct was "not comparable" to that in Haiti and while it had been dealt with internally "according to specified policies", it would be wrong to say the incidents were covered up.
But she said alerting the authorities and other charities about allegations was a "practice that we need to start".